ÉCRITURE UNVEILS AUTUMN-WINTER SEASONAL INSPIRATIONS IN ITS LATEST « LIBRARY OF FLAVOURS » TASTING MENU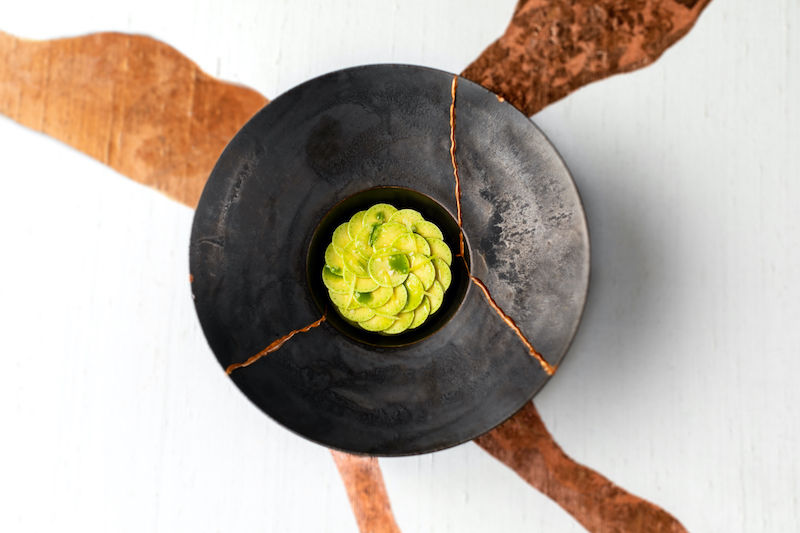 Two-Michelin-starred ÉCRITURE by Le Comptoir kicks off the new season with this year's autumn-winter flavours inspired by the finest produce from France and Japan. Executive Chef Maxime Gilbert invites guests to discover his latest innovations that highlight exquisite Japanese seafood, modern French culinary techniques, and quality artisan producers throughout Europe.
Introducing the new Library Of Flavours Dinner Tasting Menu
The Library of Flavours tasting menu is priced at HK$1,788+10% per guest, and an additional +HK$1,290 for the full gastronomic experience with seven glasses of wine pairings. The menu begins with the seasonal amuse bouche – decadent bites of Japanese Steamed Bao topped with confit quail egg yolk, lemon gel, hay cream, bottarga, and caviar; Spiral Potato Crisp with coriander hummus and summer flowers; Buckwheat & Nori Crackers with cauliflower mousse and whitebait confit; and Brioche stuffed with vegetal chorizo and herbs from Provence.
Ikura features the prized seasonal seafood of Japanese hairy crab, cooked like a pilaf with Koshihikari rice and chicken stock. The seasonally changing Iwashi course features raw Japanese sardine and Indigo tomatoes served two ways: in slices rolled with eggplant caviar and cut into a tartare. The accompanying sauce is extracted from real ratatouille, infused with thyme oil. St. Jean de Luz Tuna highlights four different cuts of beautiful house-aged Albacore tuna from the French Basque region – otoro, toro, chutoro, and akami. The tuna is served with a salad of oxalis, sorrels, bronze fennel, and green zebra tomato seasoned with lemon, olive oil, and freshly grated wasabi.
The next course, Kuro Awabi, is a celebration of Hokkaido abalone. The abalone in steamed in sake, water, kombu, and daikon, with a bouillon reduction for glaze. Trumpet zucchini slices are placed on top, and the dish is served with French Basque Kintoa pork feet "Fromage de Tete" (terrine) style with basil oil.
Langoustine from Brittany is steamed with vin jaune (French yellow wine sauce), and served with local peas, shiso flowers, and sweated onions. The langoustine claws are also used for the sauce, infused with liquorice. Basque Country Sweetbread features a medley of 10 veal tripes XO-style roasted till crispy on one side only, served with edible flowers, veal feet consommé, chamomile, and olive oil.
The French Bresse Poularde (served 2 ways) is a French yellow chicken contisé stuffed with matsutake from China, served with foie gras and parsley and tarragon butter. The chicken is cooked whole in sourdough bread and for the 1st serving, it is served with a vin jaune ikura sauce. The 2nd serving of this course includes the anticipated accompaniment of Koshihikari rice infused with chicken gizzard, liver, heart, crown, wing, and neck. The rice is finished with dashes of lemon confit, green olive, and runny Taiyouran egg yolk.
Created by local Hong Kong duo Pastry Chef, Cyrus Yan and Tia Cheung, the Desserts and Petite Fours kick off with a palate-cleansing Peach Parfait, made with peach marmalade, white peach, French yellow peach, and Moscato jelly from the south of France. The final Buckwheat dessert features a crispy confection of artfully crafted feuilletine with caramelized buckwheat seeds, white chocolate ganache infused with buckwheat, and black chocolate sorbet.
The final show stopper of your dinner at Ecriture includes a Petite Fours selection of refreshing Japanese melon, French Flan Patisserie, and chocolate cognac tart.
The full Library of Flavours tasting menu for autumn is as below:
Library of Flavours
HK$1,788+10%
Wine Pairing (7 glasses of wine) +HK$1,290 per person
Ikura
Kegani crab, rice
Iwashi
Served raw, indigo tomatoes, ratatouille consommé
St. Jean de Luz Tuna
1-month cured, green zebra tomatoes, sorrel, oxalis, wasabi
Kuro Awabi (Japanese Abalone)
Steamed and braised, trumpet zucchini, pork feet
Langoustine
from Brittany, steamed with vin jaune, local peas, langoustine claw-liquorice sauce
Basque Country Veal Sweetbread
Crispy roasted, French XO, floral bouquet, chamomile bouillon
Peach Parfait
Peach marmalade, white peach, French yellow peach, Moscato jelly
Buckwheat
Feuilletine, caramelized buckwheat seeds, white chocolate ganache, black chocolate sorbet
Petite Fours
Melon, flan, chocolate tart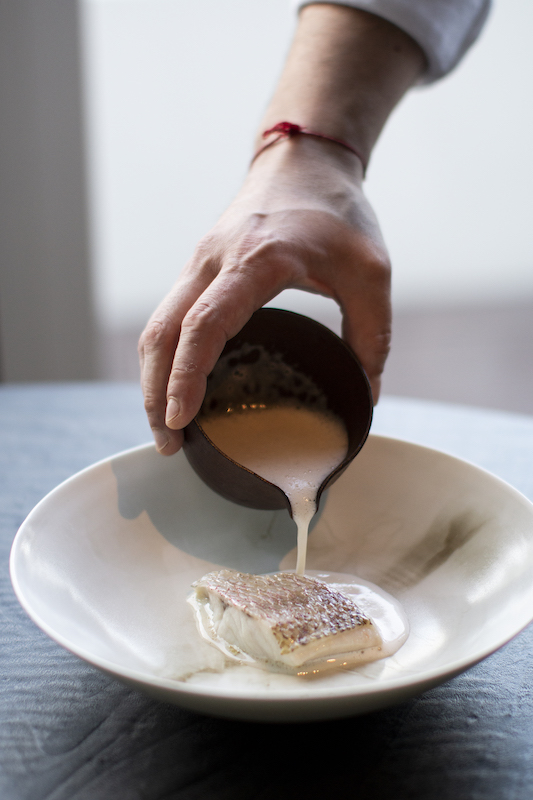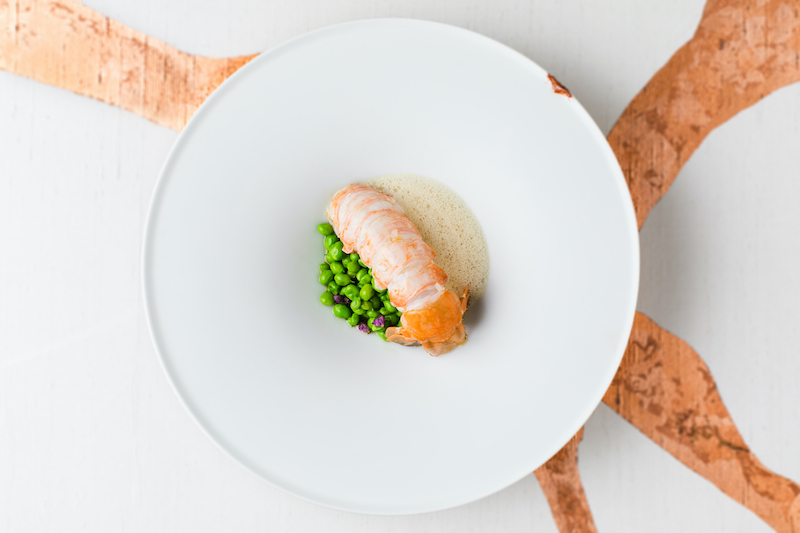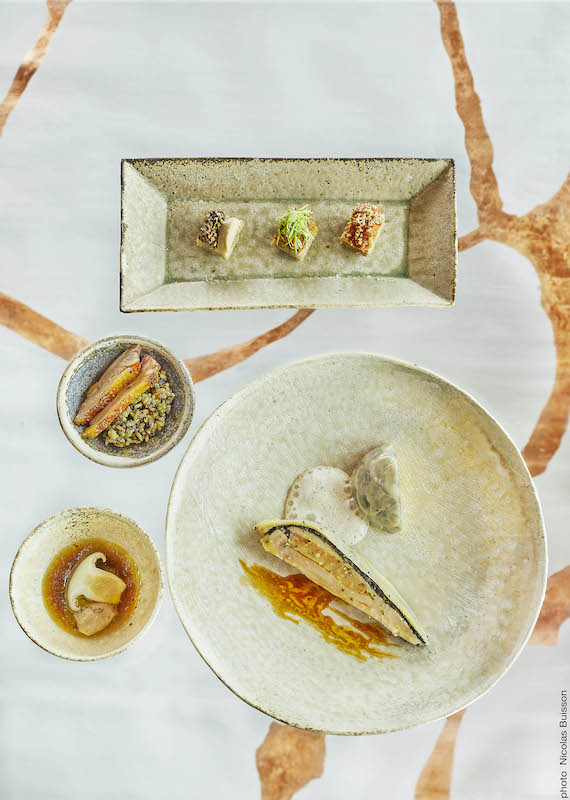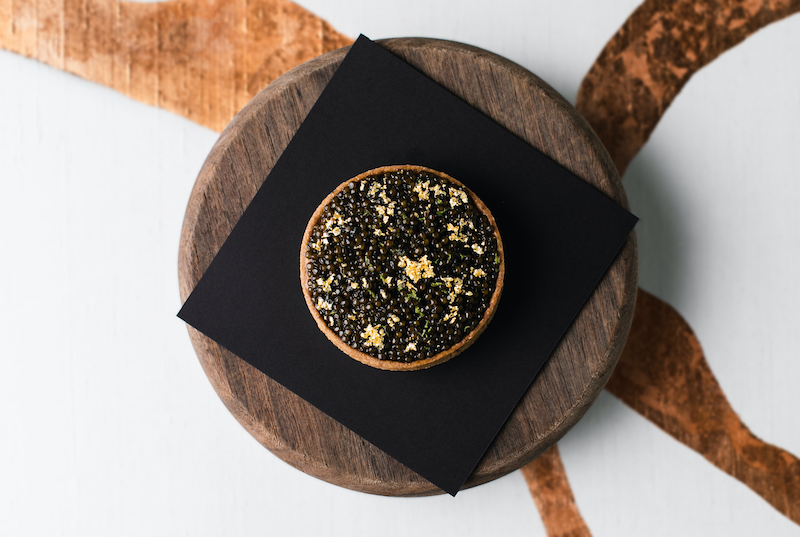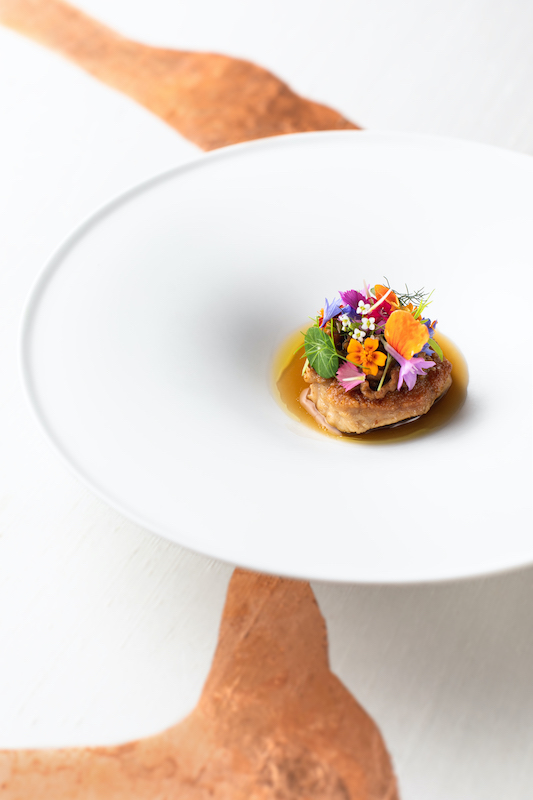 About Écriture:
Located on the penthouse floor of Hong Kong's new cultural hotspot H Queen's, Hong Kong hospitality group Le Comptoir presents ÉCRITURE, a space in which French cuisine is elevated to new heights by uniting it with exceptional Japanese produce to explore the endless possibilities that occur when Western craftsmanship meets Eastern philosophies. The East and the West have long held a mutual fascination and respect for one another, and at ÉCRITURE this comes together not only on the plate, but also in the effortlessly understated interiors. The restaurant takes its name from a series of paintings by Korean artist Park Seo-Bo – a work from which hangs in the private dining room, injecting a bold splash of red into a design scheme that celebrates the untold harmony found in contrasts and oppositions.
About Le Comptoir
Le Comptoir was founded in early 2013 with the goal of redefining what a fine dining experience can be. The name takes inspiration from the vibrant, convivial bar counter found in most French bistros and brasseries, where friends meet up to enjoy the good life.
True to its motto 'fine dining redefined', Le Comptoir is transforming Hong Kong's already dynamic F&B scene one restaurant at a time. With each completely original concept, the team at Le Comptoir places great importance in the power of dynamic, art-centric interior design to create a unique vibe within each venue. Uncompromising in their vision, each Le Comptoir property is a feast for the senses, an ode to spectacular design and beautiful art, and takes a no-detail-spared approach in creating memorable experiences for diners at every turn.
The art of fine hospitality is at the core of every restaurant by Le Comptoir. By employing Michelin and 5-Star hotel standards throughout, each venue takes pride in providing exquisite cuisine and faultless service to diners, no matter the setting.
Reservations
For events with more than 14 guests, contact DirEvents@lecomptoir.hk for more information
Restaurant Address
26/F, H Queen's, 80 Queen's Road Central, Central, Hong Kong
Restaurant Contacts
Email: ecriture@lecomptoir.hk
Website: ecriture.hk
Facebook: EcritureHK
Instagram: ecriturehk
Restaurant Opening Hours
Monday to Saturday: 12:00pm – 2:00pm / 6:30pm – 10:00pm
Sunday: 12:00pm – 2:30pm