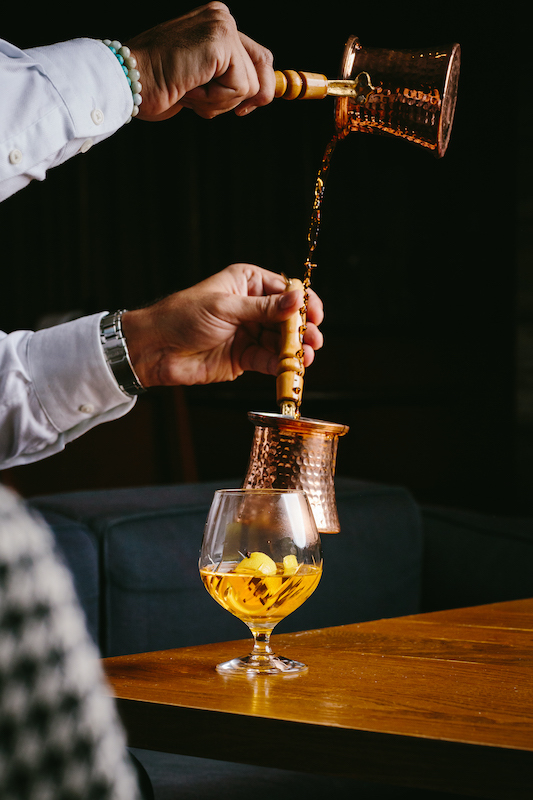 Located in the heart of Central, JIA Group's Duddell's is the ultimate social and cultural destination that brings art and people together. Beyond the exquisite Cantonese fare served on the ground floor, the upstairs 4/F salon houses an alfresco terrace shrouded in greenery and Duddell's award-winning bar. This September, Duddell's is proud to announce the appointment of new Salon Manager, Mario Calderone, who draws on over a decade of experience supervising acclaimed bars around the world.
Introducing Mario Calderone, New Salon Manager at Duddell's 4/F Salon & Bar
A self-described voyager in the world of spirits and craft cocktails, leading mixologist Mario Calderone heads the bar at Duddell's 4/F salon. Mario brings over ten years of experience travelling the world and working in internationally acclaimed cocktail bars and fine dining establishments, honing his skills along the way under industry luminaries.
Mario's first stint as bar supervisor began at Zuma London back in its heyday in 2011, serving a regular clientele of celebrities and A-listers. He moved on to the unashamedly decadent Novikov Restaurant in London's prestigious Mayfair area, working alongside an all-star bar team. In 2014, Mario started a new career chapter in Perth, Western Australia as the mixologist- of artisan cocktail bar, Bar Lafayette. He moved to Hong Kong in 2015 to head the bar of newly opened Fishsteria Seafood Place, a venture by local celebrity chef Gianni Caprioli. Most recently, Mario led the bar at multiple award-winning Honi Honi Tiki Cocktail Lounge (#29 Asia's 50 Best Bars 2016), the first tiki bar in Asia.
Now helming the bar at Duddell's Hong Kong, Mario Calderone re-imagines classic cocktails in his signature pre-Prohibition style, infusing fresh homemade ingredients and flavour inspirations from around the world.
"Duddell's is a wonderfully multifaceted destination, located firstly on the historic Duddell Street with a legendary Cantonese restaurant on the 3/F and a sophisticated bar and lounge on the 4/F. I am excited to bring my passion and experience behind bars around the world to create contemporary and original cocktails that match the artistic ethos of Duddell's," says Head Mixologist, Mario Calderone.
Introducing A New Cocktail List by Mario Calderone
The new cocktail menu is based on bygone principles of quality, seasonality, and ingenuity. Designed to cater to all whims and fancies, Mario Calderone's cocktails are sure to brighten up the end of a long day, or to serve as a perfect complement to Duddell's Michelin-starred dim sum.
At the heart of the Duddell's salon stands the Absinthe Fountain, a liquor chosen for its cultural significance throughout the ages. Because of its mind-altering nature, Absinthe played an integral role within the fine art movements of Impressionism, Surrealism, Modernism, and Cubism, as well as corresponding literary movements. It perfect lends itself to the nature of salons, a cultural hub where the senses and sensibilities of savants could be nourished. The various Absinthe available on tap includes St. George Absinthe (HK$130), La Fee Absinthe (HK$110), and Pernod Absinthe (HK$120).

Delightful new libations on the cocktail menu includes the Champagne Cobbler (HK$160), a twist on a modern classic from bartender legend Dale De Groff. The drink infuses Veuve Clicquot champagne stirred with fresh orange, lemon and pineapple, and a drop of maraschino liqueur. Mario's own signature drink for the venue, Duddell's Sour (HK$140) is a frothy, thirst-quenching blend of Ketel One citron vodka, Aperol bitter, fresh passion fruit, citrus juice, and egg white. For a nutty and refreshingly bubbly cocktail, opt for the Kaffir Collins (HK$140) made with Maraschino liqueur, fresh lemon juice, and Kaffir lime.
The Pineapple Julep (HK$140) is a fun twist on an old classic, using fresh mint and pineapple charged with Bulleit bourbon whisky, Agave nectar, peach liqueur and angostura bitters. Hemingway Crusta (HK$140) re-imagines the classic Hemingway daiquiri, introducing a tropical blend of Matusalem Platino rum, maraschino liqueur, house citrus mix and grapefruit sugar. The ultimate cocktail to sip in Hong Kong's hot and humid weather, Berry Smash (HK$150) combines fresh mint, lemon, mixed berries puree, crushed ice, and Duddells own secret vermouth blend
Other new cocktails to look forward to include Duddell's House Punch (HK$160) with Zacapa 23, Oleo saccharum, chrysanthemum tea and homemade falernum syrup,
Oolong Blazer (HK$140) with oolong tea and plum bitters, a twist on the original recipe from the 1862 Jerry Thomas bartender guide, served hot and blazed with fire for added theatrical effect. Pearfectioned (HK$140) with pear-infused Hennessy VSOP and Capovilla pear distillate served with a side of caramelized pear fan, Corpse Reviver #2 (HK$140) that draws on an old classic from the late 1800's, combining Beefeater 24 gin, lillet blanc, Cointreau, fresh lime juice, and absinthe, Clover Club (HK$140) with Tanqueray gin and homemade raspberry syrup, and Chatam Hotel Special (HK$150), a rich and indulgent combination of Hennessy VSOP cognac, Ruby port, and crème de cacao dark.

Duddell's has also unveiled an extensive range of new non-alcoholic beverages to be served at the salon. Basilicious (HK$90) boasts refreshing umami notes, featuring cucumber, basil, homemade salted honey, fresh lemon juice, and soda water. The perfect thirst-quencher for warmer days, Iced Tea (HK$70) is elevated with chrysanthemum and Pu'erh tea served ice-cold with a touch of maple syrup. Other non-alcoholic choices for the health-conscious include fresh and slow-pressed juices such as Vitamin Boost (HK$90) with orange, carrot, ginger, and apples, and Detox (HK$90) with kale, cucumber, lime, mint, celery, and clementine.
Whether you're looking for a special recommendation by one of our knowledgeable members of staff, or if you're craving a favourite classic cocktail, the talented Duddell's bar team will strive to accommodate every request with the same high level of service and masterful preparation.
Editor's Note
Duddell's has launched a new daily happy hour from 3pm till 8pm . Enjoy a tipple out on the 4/F terrace or in the salon at the valued price of HK$50 for draught beer, HK$80 per glass of selected cocktails, HK$80 per glass of house wine, and only HK$120 per glass of Veuve Clicquot Ponsardin.

About Duddell's
Duddell's is a social and cultural destination for people who have an active appreciation for the arts. Located on the historic Duddell Street in the heart of central, Duddell's boasts chic and relaxed interiors from designer Ilse Crawford, that are as noteworthy as the exhibitions on the walls. Duddell's was designed to feel like guests have been welcomed into the home of a great art collector – one that also happens to have an in-house Michelin starred culinary team. Open to all enthusiasts, Duddell's features a year round art program of world class exhibitions, discussions and more. Now seven years old, Duddell's has firmly cemented its position as a true Hong Kong brand – one that consistently receives media coverage in leading international titles such as Traveller, The New York Times, Financial Times and Forbes.
About JIA Group
JIA Group is a Hong Kong based hospitality firm that is internationally praised and recognized for executing spaces and experiences rooted in style and substance. Founded in 2004 by entrepreneur Yenn Wong, JIA Group has established a reputation internationally as an award-winning trendsetter in the hospitality industry. The current portfolio includes 10+ venues in Hong Kong, full list of the restaurants and bars could be found on JIA's website. JIA Group is listed on the GEM board on the Hong Kong Stock Exchange.
Contact
Address: Duddell's, Level 3, Shanghai Tang Mansion, 1 Duddell Street, Central, Hong Kong.
Telephone: +852 2525 9191
Email: info@duddells.co
Website: www.duddells.co
Operation Hours
Level 3 – Restaurant
Monday to Saturday
Lunch: 12nn-3pm (last order 2.30pm)
Dinner: 6pm-11pm (last order 10.30pm)
Sunday
Lunch: 12nn-3pm (last order 2.30pm)
Dinner: 6pm-10pm (last order 9.30pm)
Level 4 –Salon
Monday to Thursday
All day dim-sum & snacks: 12nn-12am (last food order 11pm)
Bar: 12nn-12am (last order 11.30pm)
Friday and Saturday
All day dim-sum & snacks: 12nn-1am (last food order 11.30pm)
Bar: 12nn-1am (last order 12.30am)
Sunday
All day dim-sum & snacks: 12nn-11pm (last food order 9.30pm)
Bar: 12nn-1am (last order 12.30am)
Saturday and Sunday Brunch
First round:12nn-3pm
Second round: 4:30pm – 7:30pm
More City News…