TATE DINING ROOM'S CHEF VICKY LAU UNVEILS "AN ODE TO TEA",
THE LATEST 7-COURSE SINGLE-INGREDIENT FRIDAY + SATURDAY LUNCH MENU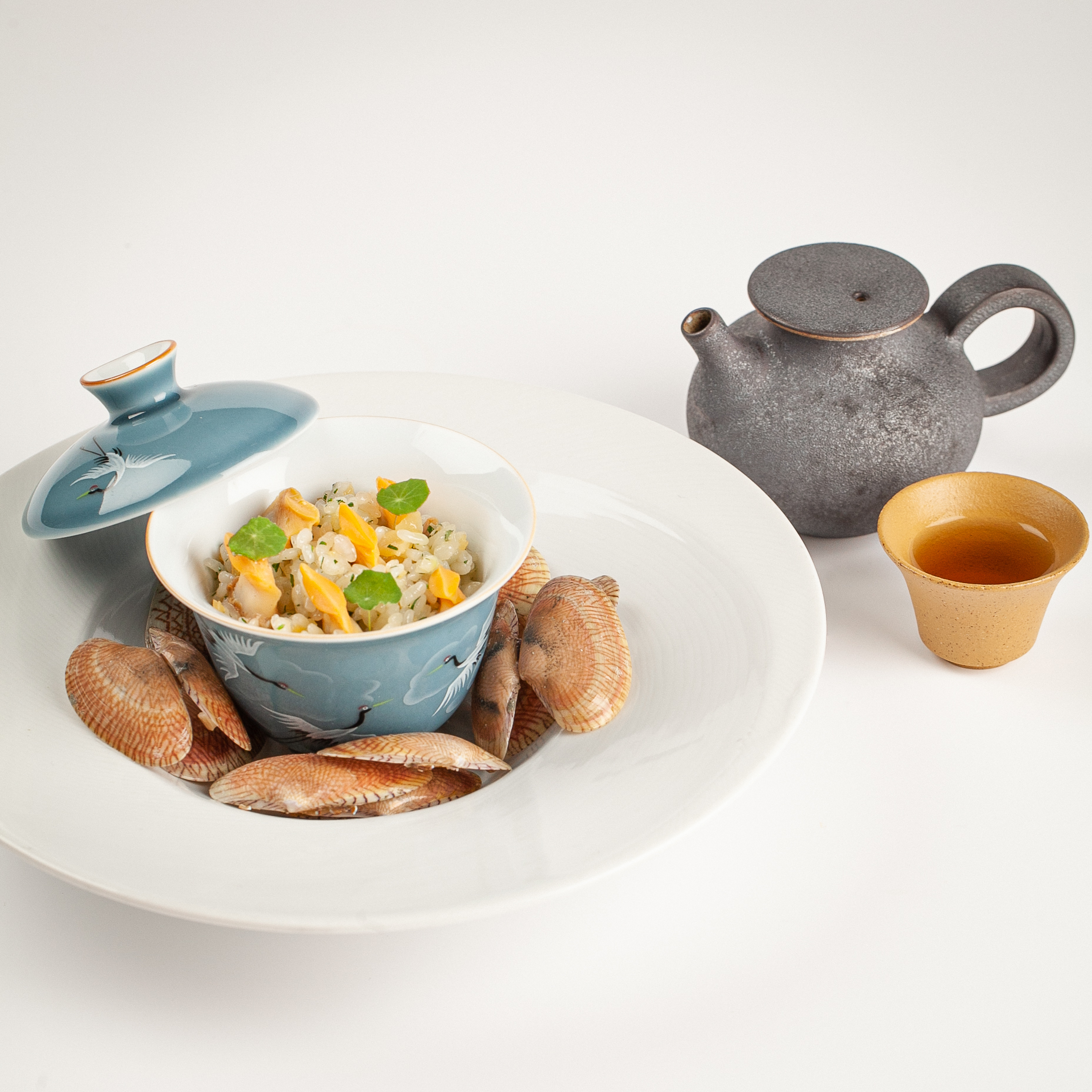 1-Michelin-starred TATE Dining Room presents a refined single-ingredient lunch menu with an innovative French Chinese twist. Following a successful series of An Ode to Eggs, An Ode to Rice, and the most recent An Ode to Tofu, Chef-patron Vicky Lau now shines the spotlight on Asia's most revered time-honored tradition – the art of drinking TEA.
An Ode to Tea elevates the tea drinking ritual by pairing some of the finest regional teas with a 7-course autumn menu by Chef Vicky Lau. From Gushusun-dried black tea derived from 200-year-old Assamica trees in Yunnan, to the umami-rich Gyokuro Oku no Tsuyu green tea blended exclusively by Horii Shichimeien in Kyoto, the hand-selected tea pairings showcase a delicate balance with Michelin-starred Chinese French gastronomy. Each tea will be brewed in small batches daily, and served either cold or warm depending on the character of the tea leaves and dish.
The menu begins with Tea Brewed Soft Mushroom Egg, an earthy dish that pairs well with the nutty Forest Wild White Broom white tea from Fujian, China.
The second course is Sweet Shrimp with Shrimp Croquette Fresh Green Tea Leaf, which is paired with a blend of Gyokuro Oku no Tsuyu green tea that is brewed and served at the precise temperature of 40 degrees so as to not burn the tea leaves. The sweet shrimp will be served with raw green tea leaves, which when chewed, releases a strong aroma on the palate. The tea is made of two kinds of tea cultivars: hand-picked Goko from Kyotanabe City and Ujihikari from Wazuka.
Kadaifi Wrapped Snapper with Kumquat, an elegant yet playful dish, meets its match with Oriental Beauty – a Chinese Oolong tea from New Taipei City, served cold and slightly fizzy. The rare tea is always produced in pesticide-free conditions to allow green leafhoppers to bite the leaves. This induces early oxidation and creates a unique honey-like aroma.
The next course of seasonal Tokyo Turnip with Hairy Crab Roe is paired with Big Red Robe, a type of Chinese Oolong rock tea from Fujian, China. The tea is served warm, with a touch of ginger to balance the traditionally "cold" properties of crab roe. Nutty, smoky, and with hints of ripe fruit, the tea acquires its unique flavor from the high mineral content present in the rocky terroir of Wuyi mountains.
French Challan Duck Breast with Plum Sauce is complemented by the malty and woody notes of Gushu sun-dried black tea that is produced in the springtime in Xiaohusai, a 2000-metre altitude tea base in Yunnan, China. The deep aroma of this tea is derived from a special "sun-drying" method of oxidation.
For warming the stomach, the next course highlights Rice Scent Aged Pu'erh to pair with Flower Clams and Dried Seafood Rice. The high-quality aged Pu'erh is processed from hundred-year-old tea trees in the Menghai region of Yunnan, China, and exudes a soothing woody rice scent unmatched by other Pu'erhs.
The concluding dessert course of Chocolate Pastry Cream, Cocoa Streusel with Masala Chai Tea Ice Cream is made from Assam tea leaves harvested from the lowlands of Khongea. The full-bodied, bright, and spicy tea is infused with a rare Keralan spice mix of cinnamon, cardamom, aniseed, cloves, black pepper and rose petals, and cooked slowly over a stove with milk and sugar.
Lunch at TATE Dining Room is served on Fridays and Saturdays from 12pm-2:30pm. Priced at HK$1,188+10% per guest, the seven-course lunch menu will feature refined innovative French-Chinese interpretations of autumn delicacies paired with tea – the chosen single ingredient for October – end of 2020. Depending on the seasonality and availability of ingredients, every 2 -3 months, Chef-patron Vicky Lau will choose a different single ingredient focus.
"Just like wine, tea is a seasonal product of terroir and climate. Little do people know, the flavor of tea is equally nuanced and suited for pairing with a variety of dishes. Through this special menu, I hope to showcase that tea can enhance and accompany food to the same effect as thoughtful wine pairings," says Chef Vicky Lau.
ODE TO TEA
HK$780 (full course men)
HK$408 (mandatory tea pairing)
HK$1,188+10% per guest
INTRO
TEA BREWED SOFT MUSHROOM EGG
Forest Wild White Broom-Tea|荒野掃把白茶
I./ SWEET SHRIMP WITH SHRIMP CROQUETTE
FRESH GREEN TEA LEAF
Gyokuro Oku no Tsuyu|玉露奥の露
II./ KADAIFI WRAPPED SNAPPER WITH KUMQUAT SAUCE
Oriental Beauty |東方美人
III./ TOKYO TURNIP WITH HAIRY CRAB ROE
Big Red Rope|果韻大紅袍
IV./ CHALLAN DUCK BREAST WITH PLUM SAUCE
Gushu Sun-Dried|古樹曬紅
V./ FLOWER CLAMS AND DRIED SEAFOOD RICE
Rice Scent Aged Pu'erh|糯香茶化石
VI./ CHOCOLATE PASTRY CREAM, COCOA STREUSEL WITH MASALA CHAI TEA ICE CREAM
Masala Chai|印度香料阿薩姆
MIGNARDISES
About Chef Vicky Lau – Founder of Tate Dining Room
The undisputed queen of innovative French Chinese fine dining in Hong Kong, Chef Vicky Lau takes pride in her talent for visual artistry from her previous life as a graphic designer. Her innate creativity is evident in the seasonally evolving tasting menu of "Edible Stories", each course designed by Chef Vicky Lau to evoke emotions and stir the imagination with an intriguing play on flavours and textures. Chef Vicky Lau's culinary skill and artistic talent earned TATE Dining Room's first MICHELIN star in 2013, successfully maintaining its star in the years that followed. In 2015, she was named Asia's Best Female Chef by The World's 50 Best Restaurants. Follow her culinary endeavors on Instagram at @ChefVickyLau.
<<END>>
About TATE Dining Room
Established in 2012, TATE Dining Room is a fine dining restaurant serving an eclectic mix of French and Chinese cuisine presented in what they call, Edible Stories – an exploration into culinary expressionism. The talented individuals of TATE's team create dishes with not only the freshest and the most vibrant ingredients possible, but also the utmost attention on quality, flavor and every intricate detail; serving up wholesome yet tantalizing dishes. Founded by Vicky Lau, chef and owner of TATE who has always been a creative spirit. Having been a creative director for a number of years, she was inspired to tap into an extra dimension to her creative vision – and her lifelong passion for food – and enrolled at Le Cordon Bleu to obtain her Grand Diplome.
Following her stint at Le Cordon Bleu, Chef Lau officially made her maverick move from design to embark on her culinary career and was working at one of the most acclaimed Michelin-starred restaurant in Hong Kong. Having gained invaluable firsthand experience, Chef Lau realized her vision by combining the best of her instincts and talents in design and food into a space where guests are invited to share and experience her passion — at TATE Dining Room & Bar. In 2015, Chef Lau has been named Veuve Clicquot Asia's Best Female Chef and the restaurant has also been consecutively awarded 1 Michelin star since 2013.