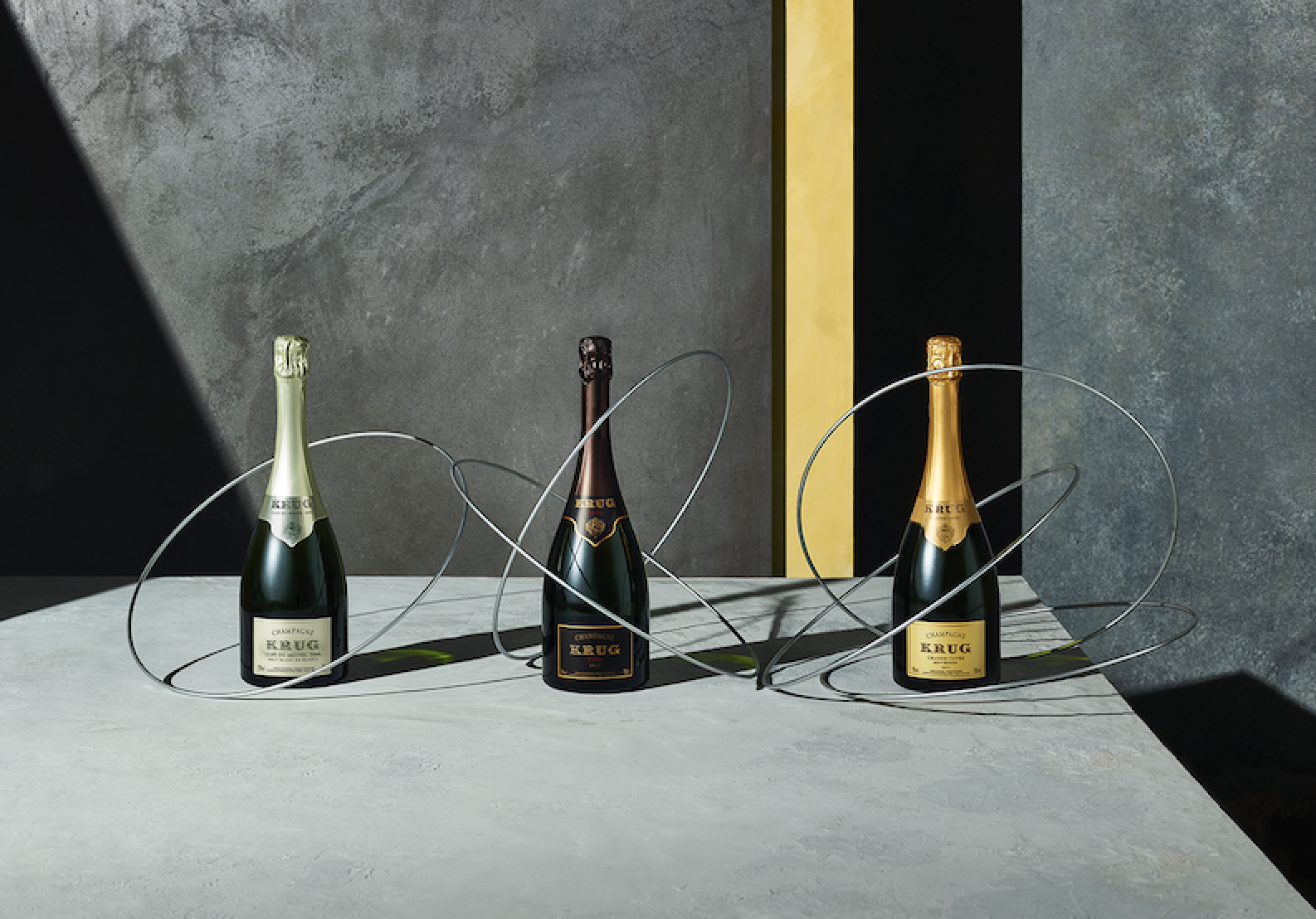 The House of Krug is delighted to present Krug From Soloist to Orchestra in 2006 – three creations that honor the year 2006: Krug Clos du Mesnil 2006, Krug 2006 and Krug Grande Cuvée 162ème Édition. This is a special tribute to this remarkable year and to the unique craftsmanship of the House of Krug, which enables the creation of different expressions of nature, all of the same level of distinction.
The Krug Clos du Mesnil 2006 exalts the purity of a single walled plot of Chardonnay harvested in 2006, a virtuoso soloist – while Krug 2006 is an ensemble of musicians playing the music of the year. Finally, Krug Grande Cuvée 162ème Édition, composed around the harvest of 2006 with wines from 11 different years, is the full orchestra playing the most complete symphony Champagne can perform.
THE CIRCUMSTANCES OF 2006
The year 2006 was considered a hot one in Champagne, with extreme highs and 23 days recorded over 30°C. It was a capricious climate that went from dry periods to intense rainfall, and in August, the equivalent of 2 months of rain fell within only 2 weeks. The sun returned to complete the ripening period, shining on a beautiful harvest. The natural harvest showed beautifully mature generous grapes with a balance similar to those of 2002 and 1989, making the year 2006 an exceptional one.
KRUG CLOS DU MESNIL 2006: THE SOLOIST
Krug's Clos du Mesnil perpetuates the nonconformist spirit of Joseph Krug, founder of the House of Krug. It epitomises the House's singular approach to Champagne making, which involves an in-depth knowledge of each plot and its individual wine, in order to create a Champagne of the undisputed quality envisioned by the founder.
The Krug Clos du Mesnil 2006 is the result of a single grape variety, a single year, and a single historic vineyard that has been protected by walls since 1698 and is located in the heart of Mesnil-sur-Oger, one of the most iconic villages for Chardonnay in the Champagne region. The highly unique circumstances of 2006 lent the year's grapes a rare beauty and poise, which expresses the music of this 1.84-hectare walled plot. The House of Krug chose to create Krug Clos du Mesnil 2006 with the promise of revealing the full potential of this walled plot of vines (clos in French) of a single grape variety – Chardonnay – from a single year, 2006.
At first sight, Krug Clos du Mesnil 2006 emits a vibrant luminosity and an intense golden colour redolent of ripe wheat. On the nose, savour delicate aromas of citrus, barley sugar, and dried fruits with balance and freshness. On the palate, the wine is generous and round with beautiful intensity, with initial hints of madeleine cake and brioche that give way to notes of pastry, tarte tain, lemon meringue, bitter orange, and some spice. The finish is long, with great tension and notes of candied ginger.
Krug Clos du Mesnil 2006 pairs beautifully with fish or shellfish dishes such as fillet of flounder in saffron sauce, zander with beurre blanc, seared scallops, or tuna carpaccio. It may also be enjoyed with delicately flavoured meat dishes such as a classical blanquette de veau, or French veal ragu.
DU SOLISTE À L'ORCHESTRE EN 2006 ACTE I
To the delight of Krug Lovers all over the world, Krug Clos Du Mesnil 2006 will now be available in a limited-edition oak case comprising three 75cl bottles of Krug's creations from the year 2006. Each limited edition hand-crafted case is a tribute both to the remarkable year of 2006 and the unique craftsmanship of the House of Krug that enables the creation of different expressions of nature and music, all of the same level of distinction.
KRUG ID: EVERY BOTTLE OF KRUG CHAMPAGNE HAS A STORY TO TELL
Since 2011, the House invites Champagne lovers to enter the Krug iD – six digits printed on the back label of every Krug bottle – in a dedicated section of the Krug website, using the Krug App, via Twitter or Google, to take their experience one step further. The Krug iD reveals a detailed story of the Krug bottle, the Cellar Master's impressions of the year, Krug x Music Pairing suggestions, food pairing inspiration, as well as recommendations for ideal storage and service to enhance every tasting of Krug Champagne. As a House with a contemporary spirit and a history of pioneering, Krug continues to embrace digital innovation and its potential to disrupt and delight.
COMMITMENT TO SUSTAINABILITY
Built upon a vision of uncompromising quality and respect for craftsmanship, viticulture and terroir, the House of Krug continues to uphold its longstanding commitment to the environment. Krug is the first Maison of LVMH to be certified Positive Luxury, due to its environmentally sound practices in vineyards, as well as among its partners, suppliers and employees. Sustainable viticulture means no herbicide is used, and vines are given organic fertilization only, while 100% of plots are planted with inter-row grass to curtail soil erosion. In order to optimise energy consumption, House has switched from oil to water-running compressors and banned air transport. Finally, the House has fashioned a unique giftbox that is 100% eco-friendly, requiring much less energy to produce and avoiding waste as it fits a wide range of Krug Champagnes.
Note to Editors
Krug Clos du Mesnil 2006 is currently available for purchase in Avize Champagne Cellar (HK$8,880) and at The Fine Wine Experience (HK$8,200).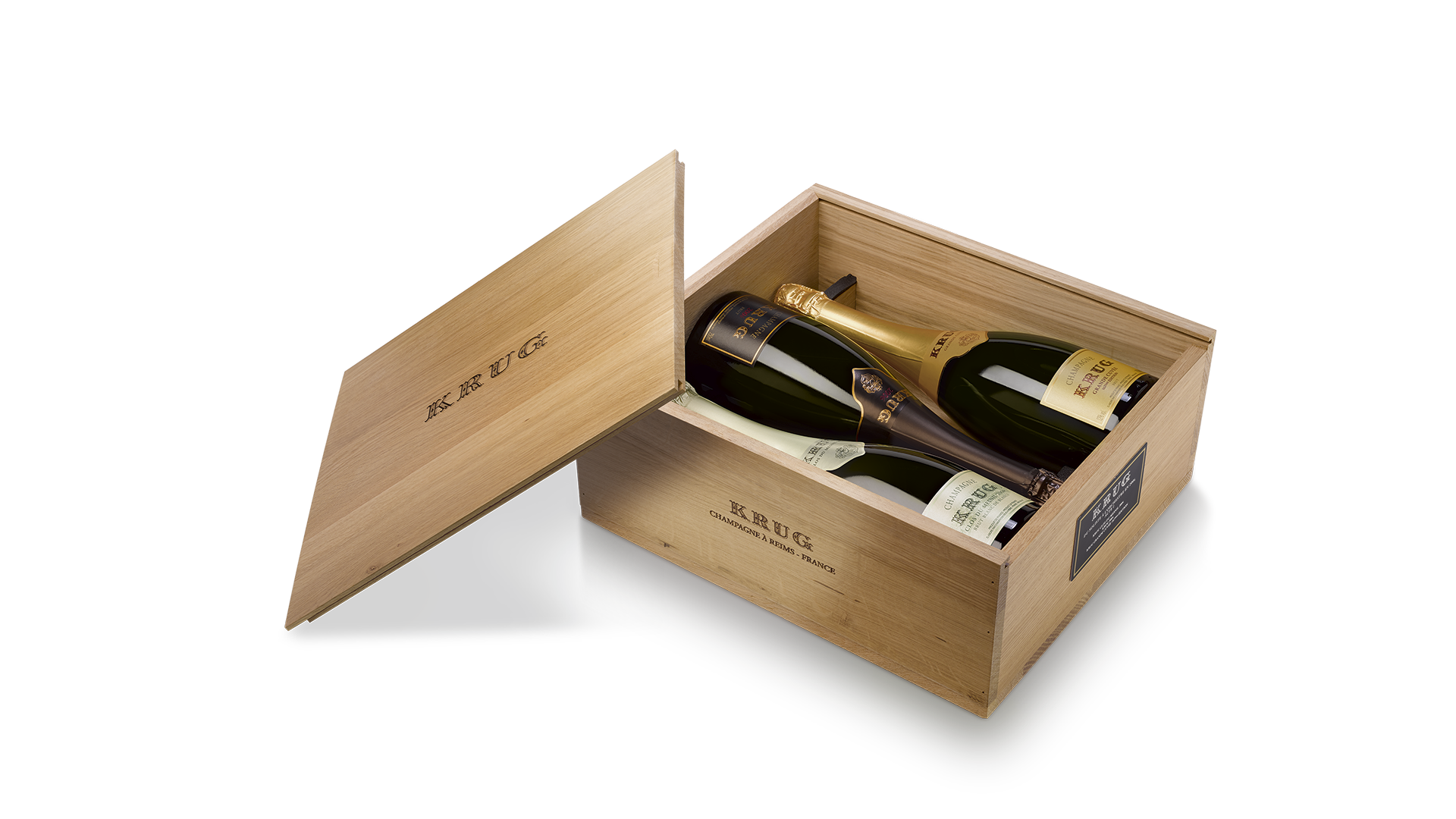 ABOUT THE HOUSE OF KRUG
Krug has always lived up to its reputation as the first and still unique Champagne House to create only Prestige Champagne every year since its foundation. The House was founded in Reims in 1843, by Joseph Krug, a visionary non-conformist with an uncompromising philosophy. Having understood that the true essence of Champagne is pleasure itself, his dream was to offer the very best Champagne he could offer, every single year, regardless of annual climate variations. Paying close attention to the vineyard's character, respecting the individuality of each plot and its wine, as well as building an extensive library of reserve wines from many different years allowed Joseph Krug to fulfill his dream. With a very original approach to Champagne making, he decided to go beyond the notion of vintage to create the most generous expression of Champagne every year. Thus, he founded a House in which all Champagnes are of the same level of distinction, each illustrating a particular expression of nature.