Christmas Cookies, cake pops, log cakes, macarons, cupcakes, and more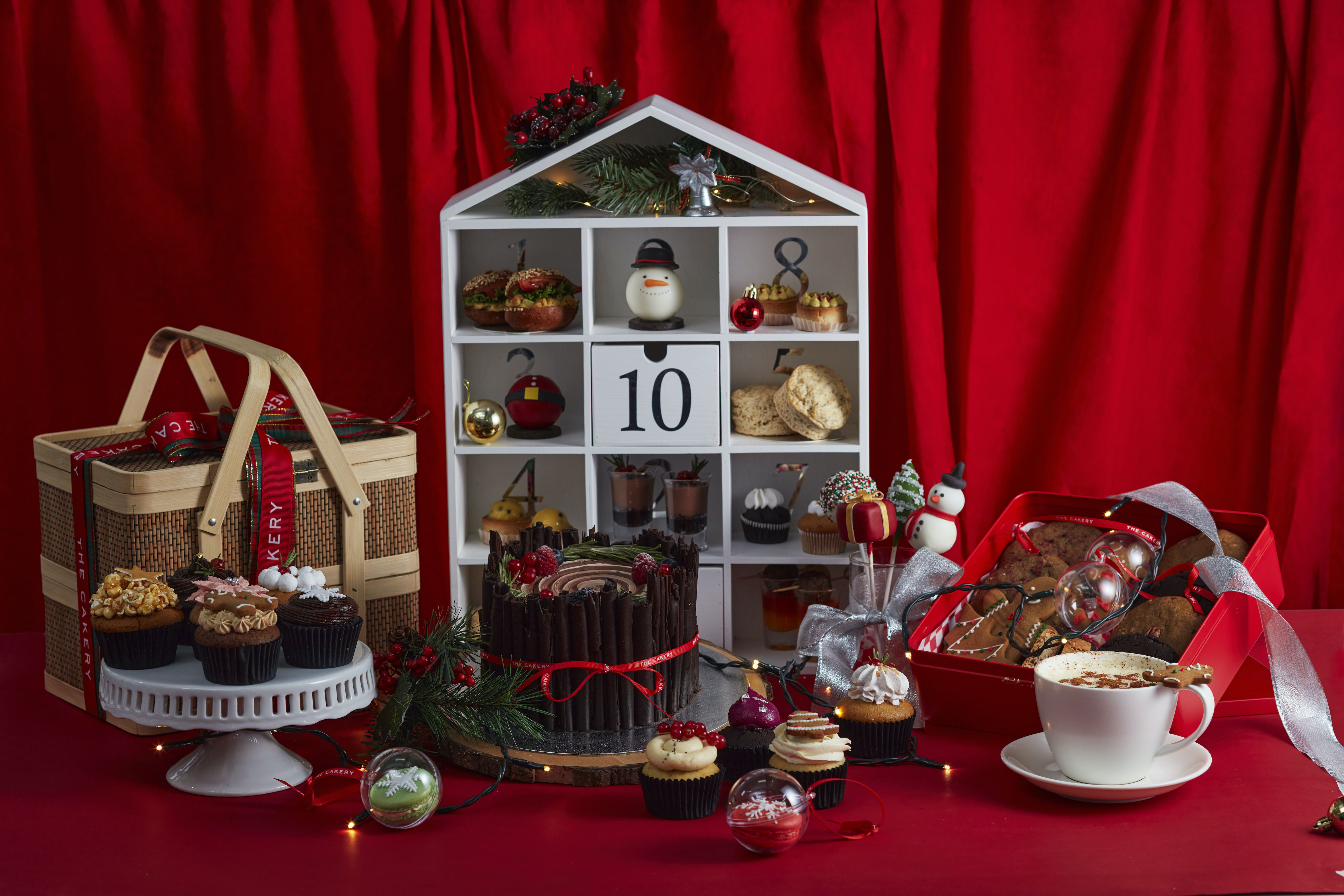 Hong Kong's favourite health-conscious bakery, The Cakery introduces to its ever-growing range of offerings new limited edition Christmas seasonal desserts and dine-in and takeaway Christmas afternoon tea. With all diets and lifestyles in mind, the new range of baked goods and dine-in offerings provide a delicious and guilt-free way to indulge over the coming holidays.
"One of our aims at The Cakery is to give a sense of inclusion for all occasions," says The Cakery founder, Shirley Kwok. "I hope the introduction of these ingredient-conscious treats offer more people with dietary restrictions the chance to join in on festive occasions with loved ones this year."
The Cakery's Dine-in and Takeaway Vegan Christmas Afternoon Tea
Kick off the holiday season with The Cakery's delightfully decadent Christmas Afternoon Tea (HK$598) experience, packed with premium ingredients and wholesome, hearty flavors. Served within a fairy-lit box designed like a Christmas advent calendar for dine-in guests, the set is also available for takeaway in a bow-wrapped picnic basket.
The vegan Christmas Afternoon Tea experience begins with savory bites of Vegan Chickpea Sandwich with Homemade Mayo and Impossible Meatball with Bell Pepper Puree. Move on to the anticipated sweet baked goods including Snowman Chocolate and Santa Chocolate made with vegan chocolate and apple crumble cake, Chocolate Dreamers with coconut cream, pistachio, and Day Dreamer Cake, Passion Fruit Tart made with vegan butter, almond flour, dairy-free cream, and soy milk, Mini Vegan Cupcakes, and sumptuous Sconescreated with golden flaxseed meal and organic cane sugar.
The Cakery's Newly Launched Christmas Collection
With the season of gifting just around the corner, The Cakery introduces a new range of traditional Christmas baked goods with its signature health-conscious spin. The all-vegan Limited Edition Christmas Cookie Box (HK$398) is a heartwarming collection of soft-baked cookies including chocolate peanut butter, raspberry white chocolate, and chocolate chip pecan. The box also includes biscotti made with premium organic ingredients, and the classic gingerbread man and gingerbread tree in 2 sizes.
For a chance to bring the sweets-loving family together, Christmas Log Cake (HK$720-HK$1,280 that serves between 4-8 guests) is an eye-catching vegan festive log-cake that is meant to be shared. With a sumptuous chocolate base and dairy-free whipping cream, the cake is adorned with chocolate "logs" and finished with raspberries, blueberries, and rosemary.
Smaller festive treats that can be enjoyed individually and make for perfect gifts include gluten-free Christmas Red and Green Macarons(HK$30 each), organic Christmas Cake Pops (HK$60-90 each) with fun festive designs such as Christmas tree and snowman, as well as gluten-free, vegan, organic or keto X'mas Cupcakes (HK$45-48) featuring toppings such as red currant, fondant, gingerbread cookie, red currant and rosemary, and silver foil.
The Cakery's Christmas offerings will be available at all locations from 13th November, 2020.
<<ENDS>>
The Cakery – Shop Details
Shop Addresses
Lee Gardens 2
Shop 124, 1/F, Lee Garden Two, 28 Yun Ping Road, Causeway Bay, Hong Kong
Opening Hours – 10:00am – 7:30pm on Mon-Sat, 10am-7pm on Sun & PH
Tel – 2816 1838
Landmark Shop
Shop 303, The Landmark, Central, Hong Kong
Opening Hours – 10:30am – 7:30pm on Mon-Sat, 11am-7pm on Sun & PH
Tel– 6683 3833
City'Super ifc Mall Shop
1041-1049, 1/F, ifc Mall, 8 Finance St, Central
Opening Hours – 10:00am – 8:00pm on Mon-Sun & PH
Tel – 2234 2804
City'Super Time Square
Times Square Basement 1, Causeway Bay
Opening Hours – 10:00am – 8:00pm on Mon-Sun & PH
Tel – 2917 7213
Email: info@thecakeryhk.com
Website – http://www.thecakery.com/
Facebook – https://www.facebook.com/thecakeryhk
Instagram – @thecakeryhk #thecakeryhk
About The Cakery
The Cakery is a Hong Kong based bakery. We strive to help you live a healthier and fitter life. We want you to fulfill your sugar caving and have fun while doing it. We believe in "you are what you eat". We took some of the healthiest ingredients, replaced refined sugar with natural sugars and increased the amount of good fats and proteins to improve the overall nutritional profile of desserts, so you can enjoy your favorite dessert guilt free. We offer a range of products that are organic, sugar-free, gluten-free and vegan-friendly. Each of our products has balanced macros and is nutrient-rich so you get a whole lot of goodness in every bite. We produce food that loves you back!
About KIRR (Keeping it Real and Raw)
As an extension to The Cakery, an advocate on clean eating, KIRR (Keeping it real and raw) is here to build a safe and clean community and make a sustainable lifestyle more accessible to you and your family. At KIRR, you will find some of the best Eco-friendly products on the market, from ingredients, fashion to jewelry, home-ware and active-ware. We are a small platform with a massive mission of making the world a better place together with you.