THE HOUSE OF KRUG PRESENTS

WORLD OF CRAFT
A playful tribute to the memorable experiences of togetherness and sharing, of good times and maverick moments, and the unexpected encounter of likeminded craftsmen over five years, five journeys and five ingredients.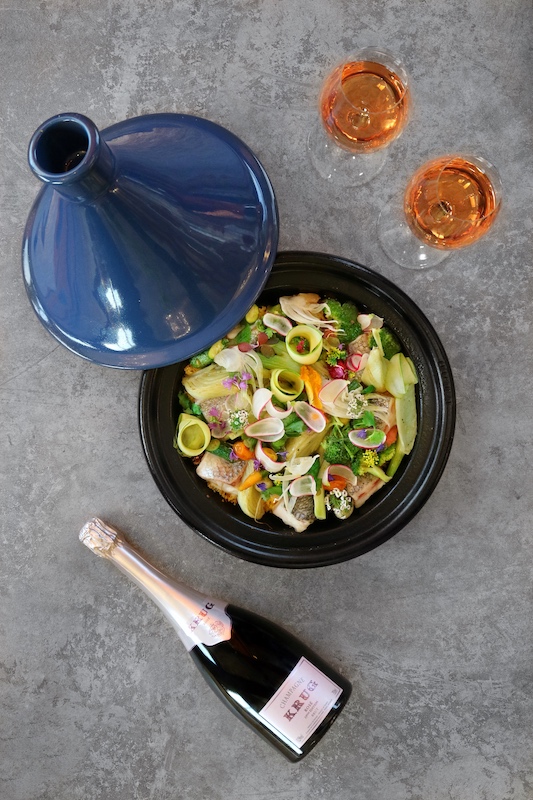 A cornerstone of Krug's savoir faire, individuality is the art of understanding that every plot of vines, as one wine, is in itself a single ingredient in Krug Champagnes. Year after year, the House honours its savoir-faire by inviting Krug Ambassade Chefs to interpret a humble single ingredient, crafting unexpected recipes to pair with Krug Grande Cuvée and Krug Rosé: the humble potato, the modest egg, the discreet mushroom, the sundry fish or the maverick pepper. In 2020, Krug invites you to channel your newfound creativity through World of Craft, our shared story a celebration of 5 years of Single Ingredients, passion, pleasure and limitless innovation.
With more and more people discovering their culinary creativity at home, through World of Craft, the House of Krug presents new and creative forums to discuss and share recipes, as well as behind the scenes footage, with our worldwide community of Krug Ambassade Chefs, Krug Lovers and foodistas. A tribute to culinary creativity "ready to taste" on Krug's social media, from now until the end of the year.
Started from July 2020, the House of Krug has launched a series of social media initiatives that connects and emboldens the emerging digital community without borders. Keep an eye on Krug's social media pages (@KrugChampagne), as we get up-close and more personal than ever with beloved Krug Ambassade Chefs around the world. The six Hong Kong Krug Ambassade Chefs will also rise to the challenge of participating in a remarkable gastronomic adventure within the digital realm. Krug Ambassade Chefs Uwe Opocensky (Restaurant Petrus at Island Shangri-La), Umberto Bombana (8 ½ Otto e Mezzo Bombana), Mori Tomoaki (Daigo by Mori Tomoaki), Robin Zavou (The Krug Room), Guillaume Galliot (Caprice at Four Seasons Hong Kong), and Vicky Cheng (VEA Restaurant & Lounge), will take their extraordinary skills online to present a range of engaging content that will debut and live on Krug's social media.
CUISINE CHALLENGE
Creativity rhymes with simplicity when a handful of Chefs each reveals a creative finger food around one of the 5 Single Ingredients in a 60-second homemade video clip. Each Chef will present simple recipes and DIY tips that are easy to cook, and even easier to share! Krug Lovers and followers will be invited to make the recipes at home and post their own renditions of these culinary creations, some of which will be selected to feature on Krug's Instagram. Careful, it's hot!
KRUG TALKS
Going back to the basics, Krug will initiate a disruptive conversation around food and creativity. The live panel discussion will feature Krug Ambassade Chefs, journalists and foodistas, who will talk about the five single ingredients, as well as share their thoughts on the present and future of cooking.
KRUG TAKEOVER
Every month, Krug will hand over its Instagram stories to a Krug Ambassade Chef as part of a 24-hour takeover whereby followers can discover a day in the life of a world-famous Chef. They will be sharing live authentic and personal moments: trips to the market, culinary encounters, behind the scenes in a Chef 's life and kitchen, his or her guests, and some surprises.
KRUG, MY CHEF& I
Once a month, a Krug Ambassade Chef will share a special live cooking session through a 45-minute demonstration on Krug Instagram Live. The Chefs will pay tribute to a unique ingredient through own signature dish. It will be an opportunity to spend time with a renowned Chef remotely, ask questions, get advice or tips while sharing a moment of togetherness with a glass of Krug. The shopping list will be shared one week before cooking and the audience will be invited to follow along, unbridling their own creativity in the process. The Krug, My Chef & I series will be a memorable occasion for everyone to become a culinary maestro.
KRUG AMBASSADES: WHERE KRUG LIVES
Throughout its history, Krug has been bringing people together for unforgettable moments. Wherever a Krug Champagne is shared, the feeling of belonging emerges, and connection occurs. Each year for the past 5 years, the House invites a group of Chefs from around the world to transcend their traditional approach by being constrained to create a dish from a simple ingredient to pair with a glass of Krug Champagne. Whether they are Michelin-starred maestros or rising culinary stars, these Krug Lovers at heart bring their passionate, determined, and creative flair to everything they do.
| | | | | |
| --- | --- | --- | --- | --- |
| Month | Krug Ambassade | Chef | Format | Ingredient |
| July 26th | Restaurant Petrus, Island Shangri-La Hotel | Uwe Opocensky | Krug, My Chef & I | Fish |
| To be revealed soon | 8 1/2 Otto e Mezzo Bombana | Umberto Bombana | Recipe Carousel | To be revealed soon |
| October | Caprice, Four Seasons Hong Kong | Guillaume Galliot | Chef Takeover | Mushroom |
| September | VEA Restaurant & Lounge | Vicky Cheng | Krug Talk | N/A |
| November | The Krug Room, Mandarin Oriental Hong Kong | Robin Zavou | Cuisine Challenge | Mushroom |
| To be revealed soon | Daigo by Mori Tomoaki | Mori Tomoaki | Recipe Carousel | Fish |


ABOUT THE HOUSE OF KRUG
Krug has always lived up to its reputation as the first and still unique Champagne House to create only Prestige Champagne every year since its foundation. The House was founded in Reims in 1843, by Joseph Krug, a visionary non-conformist with an uncompromising philosophy. Having understood that the true essence of Champagne is pleasure itself, his dream was to offer the very best Champagne he could offer, every single year, regardless of annual climate variations. Paying close attention to the vineyard's character, respecting the individuality of each plot and its wine, as well as building an extensive library of reserve wines from many different years allowed Joseph Krug to fulfill his dream. With a very original approach to Champagne making, he decided to go beyond the notion of vintage to create the most generous expression of Champagne every year. Thus, he founded a House in which all Champagnes are of the same level of distinction, each illustrating a particular expression of nature.