ALESSI DORAFF SITTING LAZ - Light Blue

Design: Ben van Berkel / UNStudio

Doraff is a seat, but also a furnishing element. It lends itself to several uses, inviting children to use their playful imagination. Positioned to resemble the abstract figure of a giraffe, it offers a comfortable, high backrest. In the other position, it resembles the stylised shape of a dog on which the child can sit and play.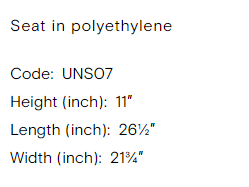 For self-pickup
, please state your preferred pick up time at "Remarks for the Shop" during checkout.
Self-pickup address & available time:
- Unit O, 6/F, Kaiser Estate Phrase III, Hok Yuen Street, Hung Hom, Hong Kong
- Monday to Friday 10am - 6pm (except Public Holidays)
- Please print out the payment confirmation upon pick-up